Ella Fitzgerald shows Billie Holiday how to scat at Bop City - July 20, 1950
Bop City was one of the many clubs that sprang up during the early 1950's in the New York City area and it was the launching pad for many of the early practitioners of the genre known as be-bop.
The club served fair warning to its patrons that they could expect a change from the syncopated rhythms of Swing and often looked for those performers who wanted to embrace the new sound.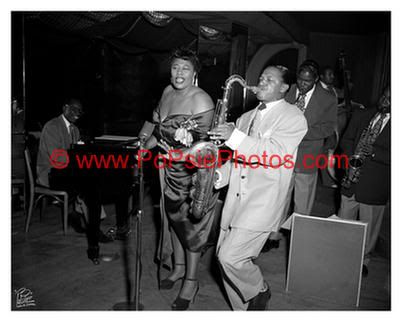 One of the first vocalists who picked up the gauntlet of the new sound was Ella Fitzgerald. Ella had married bassist Ray Brown in 1948 and was touring with his band in 1950 when they stopped in New York City for a stint at Bop City.
It was under these conditions that Ella perfected her scat vocalizations that influenced many a singer and later became her calling card when she did commercials for Memorex tape in the 1970's.
"PoPsie" was present to take some photos for Downbeat Magazine and to see if the new sound had a future. Also stopping by that night was another legendary vocalist, Billie Holiday, who was banned from performing in New York City nightclubs due to her conviction for heroin possession back in 1947.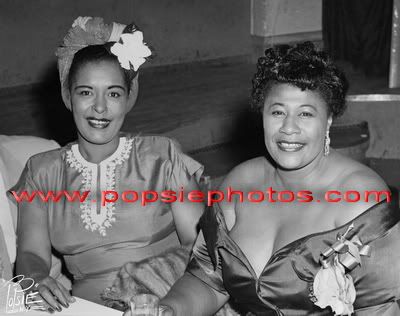 "PoPsie" always loved to get unique duos together for photographs and this was a golden opportunity to get two of the leading female Jazz vocalists together for a special photograph.
The resulting photo turned out so well that "PoPsie" kept the negative in a bank vault to make sure that no one would ever damage or lose this image. He also made sure that the photo was proudly displayed in his studio whenever potential new clients visited him to show that he had golden touch when it came to photography.
"PoPsie" truly had the gift of timing and for being at the right place at the right time.