Jan 31, 1956 - Elvis Presley at the William Morris Agency
On January 31, 1956, the face of music was changed forever. That's when Elvis Presley and Col. Tom Parker signed with the William Morris Agency and set into motion the series of events that caused the creation of Elvis Presley as an American icon.
This is also the starting point of my new online column "MusicXposed". This column along with the assistance of the greatest music photo archive known to man (The archive of William "PoPsie" Randolph, the Legend of Broadway) will recap the greatest musical moments of the 20th Century and give you access to the archive that up to now has been safely tucked away from public view. I started working with the estate a few years ago and I am AMAZED at the wealth of photos that "PoPsie" produced. I will during the course of time, shed light on the life and times of "PoPsie" as well and do my part to get him recognized as the great photographer he was.
Now, back to the event in question... Elvis at this time was just starting to make a stir and turn a few heads on the musical horizon. I won't recap all of the details here, but let's just say when RCA Victor contacted "PoPsie" about their new discovery; "PoPsie" was less than impressed.
According to his son, "PoPsie" was not crazy about Rock music or its impact on New York City at the time. Oh, sure he had a LOT of paying gigs from the new labels that sprung up like weeds around the city, but he was a Jazz cat at heart and his passions were placed with the musicians that kept in touch with him from his days as a band boy with the Benny Goodman Orchestra.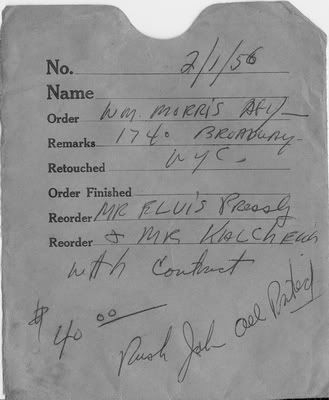 Looking at the negative sleeve from the session, I immediately noticed that Elvis' name was spelled wrong. It's always fascinating seeing this kind of thing in the archives 50 years hence and realizing that at one time in the entertainment universe, Elvis was a
Persona non grata
to the journalists and photographers that covered the industry.
"PoPsie" must have made a connection with the "kid" because he ended up shooting a recording session, a copy negative of his high school graduation photo and the back cover photos for the
Elvis Presley
LP. It was rumored that "PoPsie" also did the front cover of the LP as well, but that was just a long time misunderstanding by Elvis collectors who saw the caption "Photos by PoPsie" on the back of the cover and unduly gave him credit.
Almost exactly 8 years later, lightning would strike again as "PoPsie" would be enlisted by Capitol Records to do the same with a new British group of long hair kids who would be coming to New York to seek their fame and fortune as well, but that is another story for another time...